Christchurch born, Liam Ryan, musician and arts educator, made his name as keyboardist and songwriter with Kiwi band The Narcs in the 1980s - (You Took Me) Heart and Soul, Diamonds On China). He has featured as a session player on many New Zealand recordings and has toured as a sideman with international artists including Charlie Musselwhite, Long John Baldry and Robben Ford and is a long-standing collaborator with many international musicians working remotely from his Anam Cara studio in Waihi.
Liam has released 3 solo albums on his IMNZ label: Torch Music: Mississippi To Mauao (2007), Pacific Riviera (2010) and Woven Not Stranded (2021). You will find links to his music here.
He currently performs with Spicer & Ryan, The Midge Marsden Band, The Flaming Mudcats  and numerous jazz line-ups including Lucky Strike, The Blue Riders and appearances with the Rodger Fox Funkbone Experience. In 2022 he composed and produced commissioned works for the Rodger Fox Hone Tuwhare Project and the Creative Waikato Creative Acts of Kindness Project. He also did a final tour with the Narcs and produced two collections of groove based pieces with Sarah Spicer - part of their ongoing series "The Affirmations".
Since 2002 Liam has been involved with the National Jazz Festival Tauranga as a Director, Artistic Director and now as Manager of the National Youth Jazz Competition. In August 2017 he was awarded Life Membership of the Tauranga Jazz Society.
He is a former member of the New Zealand Music Commission and the SAE NZ Academic Board. His Masters Degree researched The Rise of Rhythm and Blues in Christchurch 1960 -1970. He is a former columnist and reviewer for Fairfax Media and currently writes for various magazines about music and culture.  You will find articles he has written here.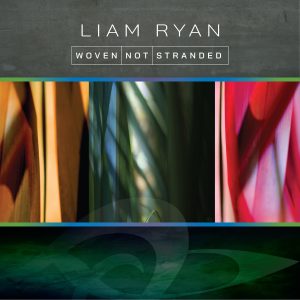 About the WOVEN NOT STRANDED Album Project : 
"Woven Not Stranded is the third and final in the M2M album trilogy and a homage to my musical roots - from playing disco in Auckland clubs six nights a week, years of touring playing rhythm and blues and jazz and, before all of that my love of classical music and my early days playing violin in orchestras. It's eclectic; it's all here. The title, Woven Not Stranded, is a nod to my inspiring grandmother Elsie who was a weaver and poet. She practised her art in the middle of nowhere up the Awatere Valley in the South Island NZ. I often feel the same solitude working on my music in the provinces - especially so in The Time of Covid. And yet we all remain connected. By the strands of whanau and aroha that bind us. Woven Not Stranded."
Digital release December 2021       CD release July 2023
I am grateful for the generosity of spirit of the many musicians on this project. All phenomenal people, great players and exceptional ambassadors for music, every one. Thank you:
Guitar: Nick Granville, Dean Hetherington, Chet O'Connell, Regan Perry.
Bass: Peter Stroud, Liam Ryan
Saxophone: Alex Nyman, Hayden Baird
Horns: Rodger Fox, Jack Harre, Mike Booth
Drums: Steve Garden, Josh Sorenson
Hammond, pianos, synth and strings: Liam Ryan
Harp: Midge Marsden, Haggis Macguiness
Vocals: Sarah Spicer, Liam Ryan
Percussion and voice Artist: Amir Yussof
Flute: Greg Latham
Producer: Liam Ryan
Mastering: Mike Bloemendal
Photography: Harry Harrison
Artwork: Mike Dunn/Tribal Brands
You can find more information about Liam's music and purchase tracks from:
https://liamryan1.bandcamp.com
TORCH MUSIC  STUDIO PROJECTS 2023:
Hamin Derus & Bamboo (6-track EP mix)
Noel Coutts & Dean Hetherington - The Empire Sessions (12-track Album mix)
The Flaming Mudcats (11-track Album mix)
Amir Yussof (Singles - keyboards and production)
Sarah Spicer (6-track EP - The Affirmations)
Evan Silva  (Singles - co-writes, keyboards and arrangements)
Rodger Fox (Bird of Prayer - Big Band composition & arrangement)
Chet O' Connell  (Single - keyboards)
All
The Blue Riders w Sarah Spicer
The Narcs
The Ryan Dickson Line
Liam Ryan
Mudshark Monday Mix
Liam Ryan & Sarah Spicer